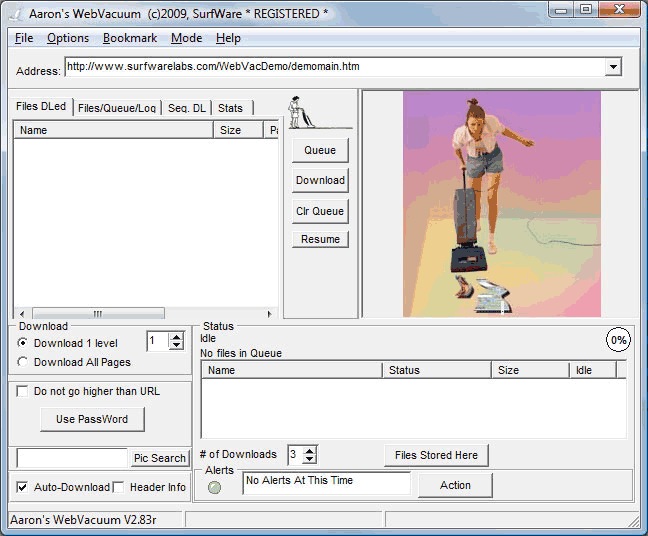 Start off by typing in a web site address in the URL box (you can Copy and Paste from your browser, or drag and drop). Then click 'Go'.
(For expert mode only: Click on the Queue button. This will load the filenames into the File Queue box. Once this is finished, then program will automatically download these files to the directory that was chosen in the Options window if the Auto-Download checkbox is selected. If it is not selected, then you just click on the download button. Files can be deleted from the queue before downloading by double-clicking them. There download order can also be rearranged. (i.e When downloading large MP3 files, you might want to download the best ones first, in case your ISP disconnects you overnight.))
JPG pictures will automatically show in the image window. To view previously downloaded pictures or run MP3s, select the Directory Tab. This will display a full directory of the files in the download directory. These files can be viewed by single-clicking, or run by double clicking. (i.e. Double-clicking an MP3 will play it using your default MP3 player).
To show pictures full-size, simply click on the small picture. To show the next picture. just press the space bar. To see the previous picture, just press the backspace key.
Full Documentation is included in the program.
A great tutorial by the Shareware Genie is available here: http://www.sharewaregenie.com/WebVacuumReview.php
How Do I use Usernames and Passwords?
1) Click the Password checkbox on the main WebVacuum window, then fill in the information.
Or:
2) Type the web site in the following manner: http://username:password@www.website.com/area
In this case, the web site is http://www.website.com/area, the username is username, and the password is password.
I can't connect.
If you are using a LAN network, you may need to use a proxy server. Simply find out your server address and type it into the proxy box in the options window.
The proper files don't get queued.
A lot of sites use frames, and the URL (Web Site Address) displayed is for the root frame, and not the desired web content. To solve this, in your browser, simply right-click your mouse on the section you want to download, then select 'Open frame in new window'. When the new window opens, the proper URL will be displayed.
See our Forums section for more tips.